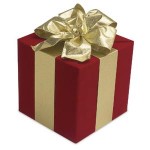 A month from tomorrow is my Birthday. Whenever it comes to a holiday or event that involves some gift receiving on my part, the question inevitably comes "What do you want for _________ ?" And my answer is inevitably "I don't know…".
The reality is that I do know, but the things that I want are so far outside of the normal range of affordability that I generally don't want to bring it up. I don't want to ask people for an electric car (if such a thing exists in the US – c'mon automakers, get with the program), or a $3000 projector, or a 42″ flat LCD TV, or whatever. Up until 9 months ago, one of the answers was "A new computer", but having struck a deal with Hykel, my wife I bought a new iMac back in July, and it's been great. So thankfully I don't need a new computer. I'm very happy with it.
When it gets down to a few days before my birthday, I manage to come up with a few things that are affordable, but it's too late. Everyone's already bought me a bunch of stuff. I like it, but I also kick myself for missing out on something that I wanted, and actually could have gotten. So here, for my family, friends, or even strangers who want to buy random stuff for me (really? No, I doubt there are any out there) I present to you my 2009 birthday Wishlist. I've provided links to the items and the prices I've found. As this site tends to focus on technology, I think most of these items are going to be tech-ish, but there might be something else thrown in there. All items are intended to be at most $100, and hopefully quite a bit less.
On with the List: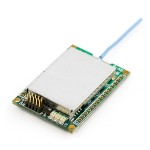 WiFly 802.11 Module
– SparkFun Electronics ~$70
The WiFly module is basically a WiFi card that doesn't plug into a computer, but instead talks to a Microcontroller. It draws very little power, and contains most of the complex stuff already built into it. So I've been eying this, and it's something I'm interested in hooking up to my
Arduino
.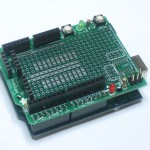 Protoshield for Arduino
–
Adafruit Industries
~$19 (protoshield) + $4 (breadboard)
Arduino is a basic electronics Micro-Controller board. It's designed with the non-engineer in mind. It makes all of the tough stuff easy. This Proto Shield was designed to make prototyping with the Arduino a little easier. It plugs in on top of the Arduino and moves all of the pins up to the prototyping board. Coupled with the
Tiny BreadBoard
, it's an awesome method of working with the Arduino.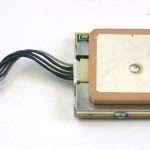 EM-406A GPS Module
–
Adafruit Industries
~$60
A lot like the WiFly module, this GPS module is essentially a GPS tracker without the interface. You can plug this into a Micro-Controller and get GPS data out of it. This is a great way for a little electronic device to know something about the world in which it lives.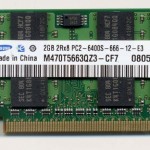 2GB iMac Memory Modules
–
Memory 2 Go
– 2x ~$55
You need more Memory. This is the mantra that, if you've been anything more than a casual computer user, you have probably been saying for as long as you can remember. I can only remember on very rare occasions thinking "Wow, I have a ton of memory, I don't need more than this!" When I have thought that, the feeling doesn't last long. My iMac currently has 2GB of RAM in it, and while it's been solid under the 2GB, it's a well testified fact that the machine will perform far better with more memory. The 2x up there points out that I'll need 2 of these memory modules to make it practical. (The modules run around $26 a piece, give or take.)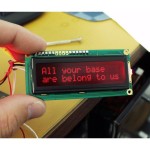 Red on Black Serial Enabled 16×2 LCD
–
SparkFun Electronics
~ $25
When one builds little electronic devices, sooner or later one needs to know what's going on with them. Usually little lights will suffice, but sometimes a little more information is helpful. What a great opportunity for a little screen that displays little characters. I could attach this to a robot, and the robot could say things like "You're in my way" or "I'm a robot". Or alternatively, it could produce some useful information.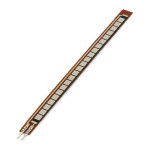 Flex Sensor
–
SparkFun Electronics
~ $13
Remember the PowerGlove? Of course you remember the PowerGlove. Actually, you probably remember a punk kid from 1989's
The Wizard
saying "I love the PowerGlove… It's so bad!" Yeah, we all hated Lucas. Not just for being a jerk, but also for having the PowerGlove. Well, this sensor is the very type of sensor that was used in the PowerGlove's fingers to determine how your hand was moving. In spite of it's appearance, this sensor's only 4.5 inches long. Here's
one example
of one way to interface with a flex sensor. Get me a Flex Sensor, and you will have, in a small way, have gotten me the power glove I never had.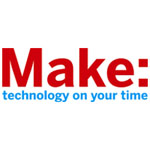 Make Magazine Subcription (Print + Digital) –
MAKEzine.com
~ $34.95
I'm not big into publications. Books or Magazines, really. Most (non-fiction tech) books and magazines contain great information… for last week. Magazines in this day and age are painfully outdated in the space of news, and useful information. Books can be even moreso. Make Magazine I think has a fairly unique setup. What they publish comes from an effort of wanting to do something yourself. Solving a solution on your own, and sharing that knowledge with the world. Their information isn't out of date, because they're approaching a problem with what they have at the time. They don't rely on the "most recent", but on the "what's available", and the latter is less likely to change than the former. Make offers the Digital + Print subscription combo for the same price as the regular print. Can't go wrong there.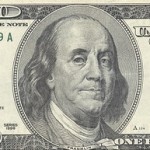 Benjamins
– Your PocketBook ~ n*$100
Generally, I think it's not very classy to mention cash in a wishlist. It reminds me of Sally's letter to santa on the Charlie Brown Christmas Special: "
If it seems too complicated, make it easy on yourself: just send money. How about tens and twenties?
" Indeed, the whole concept of gift giving kind of relies on the idea of giving something to someone from the heart. One might ask "Why even make a wishlist? Isn't a gift supposed to be something that an individual comes up with on their own?" Perhaps so. I want people to feel confident that they're getting me something that is interesting to me. I think in the end, I don't really want cash. Something I'd definitely be interested in is gift certificates from a few specific places. Namely, the following:
Portland Tech Shop – (Also, a membership here would be a dream, but my goal was to keep every at or below $100.)
So there it is, everything I can think of that I've been recently wanting, but unable to get for myself for various reasoning. I hope anyone who wants to get me a gift will know that it's not what you get, but the thought that counts. I know that's horribly cliché, but I've learned quite recently that it's also wonderfully true. I will be grateful that you took the time to think of me and my birthday.
Alright readers, What do you think? What have been the things that you've been looking after? Which of those things fall into the "affordable" price range? Chime in.